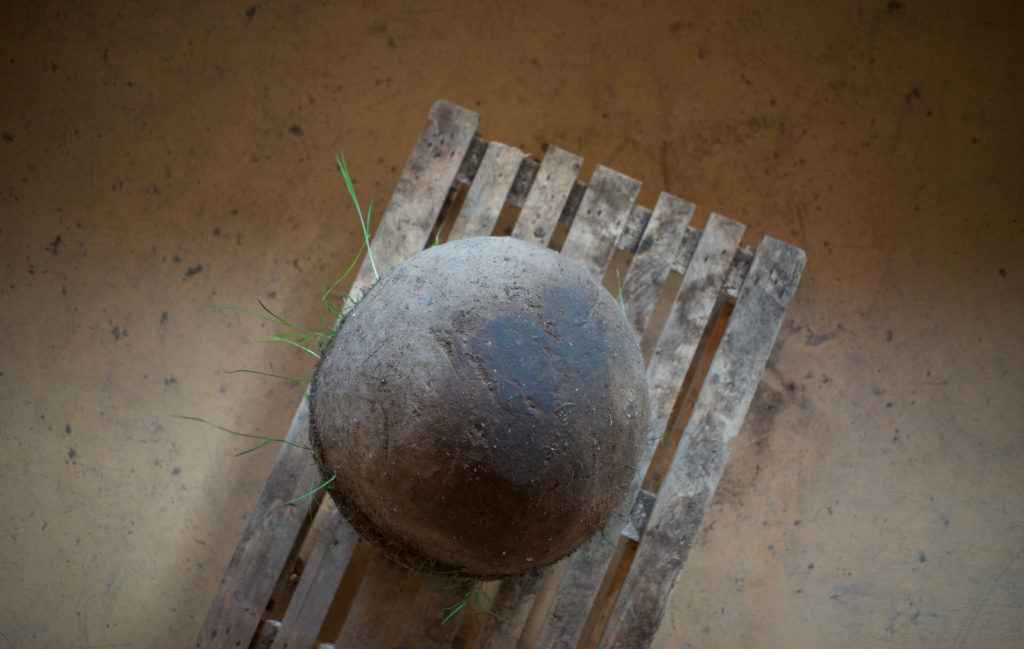 An Experiment on Turf is an ongoing art research project in which the old building material "myrartorf" is examined from the perspective of visual art. The material as such has diverse connotations to different fields of study like geology, ecology and cultural studies. The project examines how contemporaries understand the material turf differently from past generations. It is an attempt to give turf a new meaning and form within contemporary visual art.
A sculpture installation was made in the basement of the house named Raðagerði in Seltjarnarnes. The sculptures are all abstract forms, freed from any association with functionality or history and true to the turf's nature as a material for art making.
The work was made with the assistance of students in the Art and Design Department of the Iceland University of the Arts. They assisted in cutting and collecting the turf from the swamp and were involved in the transport, drying and finally then cutting the material into shape. The project was a part of the exhibition Earth Homing: Reinventing Turf Houses in Seltjarnarnes, Iceland, August – September, 2018. Curator: Annabelle von Girsewald.


Tilraun um torf er tilraunaverkefni þar sem hið ævagamla byggingarefni mýrartorf er skoðað út frá forsendum myndlistar. Efnið sem slíkt hefur víða skírskotun, meðal annars í jarðfræði, vistfræði og menningarsögu. Skoðað er hvernig samtíminn skynjar efnið á annan hátt en gengnar kynslóðir og reynt er að gefa torfinu nýja merkingu og form innan samtímamyndlistar.
Tilraun um torf var skúlptúr innsetning sem var unnin í og sett upp í kjallara hússins Ráðagerði á Seltjarnarnesi. Form myndverkanna stjórnast af því að vinna með torfið sem efni til höggmyndagerðar. Formin eru óhlutbundin til að frelsa efnið frá tengingu við notagildi og tengsl við söguna
Verkið var unnið með hjálp nemenda í myndlistar- og vöruhönnunardeild LHÍ sem tóku þátt í að skera torf úr mýri, flytja, þurrka og loks skera í form. Verkefnið var liður í samsýningunni Earth Homing: Reinventing Turf Houses sem stóð yfir á Seltjarnarnesi ágúst – september, 2018. Sýningarstjóri var Annabelle von Girswald.